! Created by Tingley Web Creations 85 Industrial Road #15 Big Pine Key, FL 33043 info@tingleywebcreations.com >
ForevaXena's Webrings...
---

A wonderful way to bring fans and information together!
Please visit the other talented webmasters in these rings.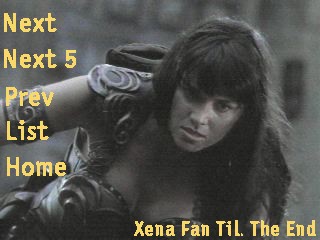 The very first webring I joined!
Obviously, I believe Xena & Gabrielle are more than friends ;-)

This is an awesome ring by and for Xena fans.

This photo alone is enough reason to join!

Some really cool sites are in this ring.
A home for all of us that love to ICQ!
---
---
|| What's New | Multimedia Index | Lawless' Lair | ROC's Realm ||
| Fun Central | Linkage | Original Page | Communications | Home ||

This site is a non-profit fan page. Any contributed works are copyrighted by their creators. Above all else,
this is a labor of love and not meant to infringe on anyone's ownership rights.
Most images and sounds © 1995-2000 MCA Television, Studios USA, and Pacific Renaissance Pictures.
Page design and original artwork by "ForevaXena"


© 1999-2000